There is an endless list of scenarios in which you would need to retreat into a bunker. The problem is that constructing one can seem too daunting for all but the most serious preppers and survivalists.
The truth is that building a bunker is only as expensive and complex as you make it, and there are many different styles and construction methods that you can use to construct your bunker.
Before You Start Digging
Every jurisdiction in most countries has permitting processes that you need to go through before starting construction on anything in your home, bunkers included.
So always check and ensure that you follow all the rules and pull all of the appropriate permits before you begin construction.
Related: When Did Independence Become Illegal?
A Few Things to Consider
Any bunker that you build needs to support life during whichever event has driven you to hide inside of it.
Since you will not be leaving the bunker for as long as the threat is outside, you will need to have enough food, water, medical supplies, tools, equipment, communication gear, etc, to ride out whatever is going on beyond the doors.
You will also have to take special care and consideration in providing adequate climate control and ventilation. We are all dead within about three minutes of no oxygen, so you need to make sure that there is enough fresh air flowing through the shelter. It is advisable also to install filters to remove any contaminants from the air.
These are examples of ten bunkers that you can build on your property:
Panic Room
A panic room is not technically a 'bunker,' but it serves the same purpose of hiding you from a threat outside.
Panic rooms are built within your home and are usually a small room that you can conceal from view. To make a panic room, you need to find a space within your home that you want to turn into a panic room, then reinforce the walls, ceiling and floor so that no one could break through them.
You could use concrete, metal or thick solid wood.
The important thing to remember is to make sure that area of your home can support the additional weight. You will also need a heavily reinforced hidden doorway.
Related: How To Make An Invisible Shelter Against Looters
Crawl Space/Basement/Root Cellar
Staying with the theme of building bunkers within the walls of your home, turning a basement, crawlspace or root cellar into a bunker is also a viable option to look at.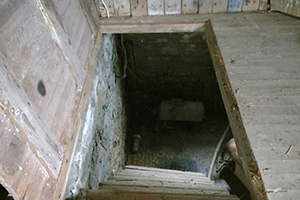 A good thing about concealing a bunker beneath the main floor of your home is that it gives you many options for hiding the entrances and exits.
For example, it would be very simple to conceal a doorway to your bunker under a rug or piece of furniture.
As with building a panic room, you will need to reinforce the bunker's ceiling so that no one can gain access by breaking their way through your floor.
Bury a Sea Container
There has been much debate over whether or not burying a sea container is a good way to build a bunker.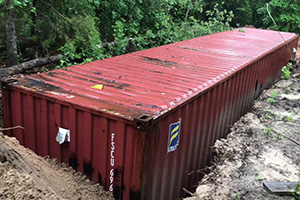 If you can engineer ways around the weight of the dirt buckling the sides, placing a sea container underground can be a viable option for you to look at.
Don't simply dig a hole, drop in the container, cover with dirt; do some research and do it properly.
Steel Culvert
To counteract the issues using a sea container poses, we can also use a section of steel culvert tube that is large enough to construct a livable space within it.
In addition, since culverts are designed to be buried under the ground, they are a good option for underground bunkers.
Related: Where to Go When You Don't Have a Nuclear Bunker
Above Ground Bunker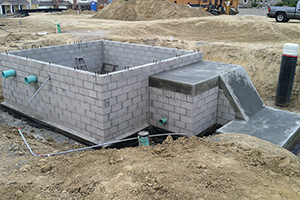 There are no rules that say your bunker must be underground. As long as you take steps to conceal the bunker's location and build the walls, ceiling, floor, and entrances and exits so that they would be exceptionally difficult to break through, you can construct an above-ground bunker.
Such a bunker should be kept away from prying eyes through the use of camouflage. You can build an above-ground bunker out of concrete, cinderblocks or bricks, or metal, to name a few.
Pre-Fabricated Bunkers
You can purchase a ready-built bunker that only requires a hole to place it in.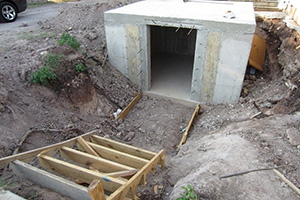 These bunkers are a great option for those who do not have the time or the technical expertise to build a bunker from scratch.
There are various sizes and styles to choose from, and the sky is the limit on how much you can spend purchasing one of these units.
Luxury Bunkers
Everything in life has a luxury brand, and bunkers are no different.
So if you want to survive the apocalypse in style, then there are companies you can call who will build you a bunker that is probably nicer and more expensive than the home you live in now.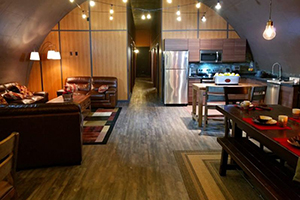 The goal of luxury bunkers is to provide you with a place to survive the end of days without sacrificing the high-end finishings, comfortable beds, and gourmet kitchen.
You may even want to move into the bunker full-time!
Dig a Bunker into a Hill
If you have a sizeable hill on your property, you may want to consider digging a bunker into the side of it.
Related: Emergency Shelters When You Are On The Move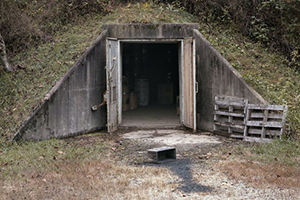 This is not a DIY job, though; since you are effectively excavating the interior of a hillside, you will need to use the services of professionals to do your excavating.
In addition, the actual construction of the bunker may also be problematic and require the services of a professional contractor and engineer.
Concrete Underground Bunker
Building a simple underground concrete bunker is almost as simple as digging a large hole, pouring a reinforced concrete floor, walls, and roof, then covering it with a couple of feet of dirt.
Remember to include both entrances and exits and a robust ventilation system.
Include a Bunker in a New Home Build
If you are building a new home on your property, it makes much sense to include a bunker in the plans. This way, there are fewer issues with obtaining permits, the construction crew is already there, and some of the costs of the bunker can be less since it is included in the price of your home.
You also have greater flexibility over exactly how the layout will look and how you will access the bunker and exit if you need to flee.
Concluding Thoughts
The likely hood that you will have to hide in your bunker is small but not zero. Even events like civil unrest and rioting may be bestridden out by slipping away to your bunker to wait until it is over.
So regardless of the reason you find for building a bunker on your property, there is a bunker out there that will suit your needs and budget.
You may also like: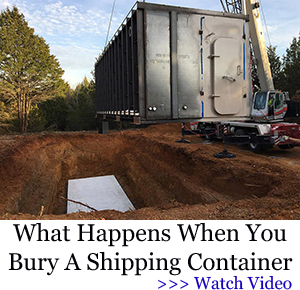 What Foods Can You Bury Underground For Winter?
The $200 A Pound (Dried) Common Mushroom That Could Be Growing In Your Area (Video)
How To Build A Survival Debris Hut
11 Foods That Should Never Be Kept Next to Each Other
Source
10 Cheap Bunkers You Can Make On Your Property is written by Michael Major for www.askaprepper.com