If you're no stranger to prepping, you'll know that food doesn't last long when kept in rotation. Sometimes, you need your foods to last longer while expanding your stock. One food group that can last a surprising amount of time is baked goods.
Baked goods can be either homemade or store-bought. Homemade baked goods must be absent of sugars, eggs, and excess moisture to keep for a long time.
Packaged baked goods should stay in the package until you are ready to eat. This will optimize the nonperishable's shelf life. Leftovers must be consumed quickly after the package has been opened.
Here are 24 homemade and store-bought baked goods that will last a very long time in your food stock. All foods on this list will last at least 6-12 months when unopened unless specified otherwise.
Animal Crackers
If you have children at home or if you are young at heart, animal crackers are a great packaged snack. Some come individually wrapped, which are best for long shelf life.
Once the whole package is opened, you have a limited window before they go stale. If you see a bulk pack of individually portioned animal crackers, stock up!
Biscuit/Baking Mix
The dry mix for biscuits or pancakes can last a fairly long time in your pantry. You can portion off the baking mix into separate vacuum-sealed bags so that the mix stays as fresh as possible without continuously reopening the box. If a biscuit recipe calls for 2 cups of mix, portion your bags into 2-cup packages.
Biscotti
This twice-baked cookie is a dry, sweet treat that often includes dried fruit or herbs.
Biscotti is known for being very dry, making it a great cookie to keep for a long time. Be sure the package stays closed for maximum lastability.
Related: DIY Poor Man's Cookies
Cake Mix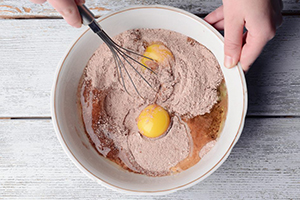 You never know when an emergency will strike, but having cake mix in the pantry brings back a sense of normalcy.
Celebrating small wins with a cake is simple when you keep boxed cake mix around! This stuff lasts about 6 months as per the package date, and even longer when kept in a cool, dry place.
Bread Crumbs
When kept in an airtight container, bread crumbs can last longer than you think. It's also helpful to keep breadcrumbs on hand for breading meats and thickening sauces.
Store-bought bread crumbs are longer lasting than freshly made bread crumbs.
Breadsticks
The crisp, long, and skinny packaged breadsticks are awesome for your food pantry. Many come in interesting flavors such as sesame or garlic.
These are perfect for serving alongside a meal and last a while when kept in an airtight container.
Related: 22 Ingenious Hacks to Make Food Last Longer
Canned Soup
You may think that canned soup is not a baked good, and you might be right.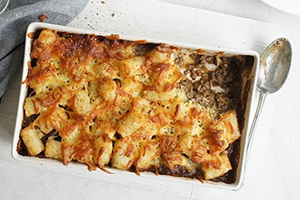 However, ever since the Great Depression, people have been using canned soups as baked casserole starters.
Toss a can of soup with some canned chicken and veggies before baking. The result is a flavorful and filling casserole using just a few ingredients!
Canned soup lasts almost forever and you may have lots of it in your pantry right now.
Cereal
Although milk is not a long-lasting ingredient, cereal is. Little baked nuggets such as Cheerios or Shredded Wheat can last 12 months when unopened.
Cheez-Its
When you have a cheesy craving and no refrigeration, get your cheese fix from Cheeze-Its.
They are crunchy little crackers that are packed with cheese flavor. Best of all, they last a long time and come in individual packages.
Fruitcake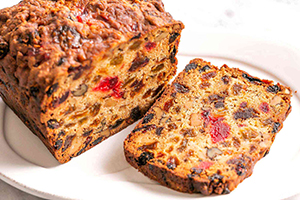 Did you know that some low-moisture fruitcakes can last more than 2 years if stored properly?
You either love or hate this dried fruit-studded cake, but it is a baked good that lasts longer than any other on this list.
Fruitcake may get slightly dry as it sits, but as long as there is no presence of mold, it is perfectly fine to eat after long-term storage.
Cornbread
The first homemade bread on this list is cornbread. Cornbread is made with little moisture and no eggs or dairy can last longer than you think.
Store your bread at room temperature in a vacuum-sealed bag for a few weeks or freeze for 3-6 months.
Croutons
To top your dandelion greens or home-grown salad ingredients, keep some croutons in the pantry. They add an extra element to a salad that fills you up.
Plus, they are a great midday crunchy snack that lasts quite a while in the pantry.
Granola Bars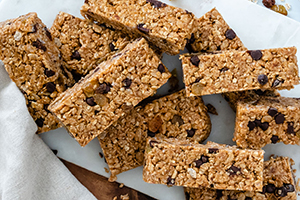 Perhaps you have kept the same granola bar in your car or bag for a rainy day without snacks.
Granola bars are made to last a long time. They are also made of mostly healthy ingredients, depending on the brand you buy. Plus, they are individually wrapped for optimal freshness.
Ho-Hos
Ho-hos and sweets like them are prepackaged and individually wrapped cakes that you can keep in your pantry.
The inside is a chocolate-coated cocoa cake with a frosting-like filling. These treats will last you a while due to the individual wrapping.
Matzo Bread
Another homemade bread with long lastability is matzo bread. It is an unleavened bread consisting of flour and water.
The result is a very thin cracker-like bread, which should be store in vacuum-sealed bags or an airtight container for maximum shelf life.
Related: How to Make Matzo Bread With a Long Shelf Life
Muffin Mix
Jiffy, a long-lasting muffin mix company, makes many flavors of muffins that are known to have a long shelf life.
The most popular flavors include corn and blueberry. The mix just needs water before baking.
Stuffing Mix
Boxed stuffing is a bunch of croutons and Thanksgiving herbs wrapped in a package. Not that there is anything wrong with that!
Boxed stuffing is a tasty side dish or main course. It is a common item in many food storage pantries.
Hardtack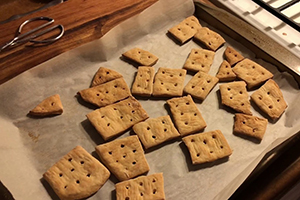 Hardtack, AKA Forever Bread, is a homemade mixture of flour and water to create a hard, dry cracker-like bread.
It has been eaten by soldiers dating back to the Civil War.
Hardtack can last over 2 years when stored in a vacuum or mylar bag.
Oreos
Oreos and other packaged cookies are not the healthiest pantry option, but they sure are delicious. Packaged cookies will last 2-3 weeks beyond their written expiration date.
Pilot Bread
Pilot bread is store-bought hardtack. It is a very hard, thick cracker that is absent of moisture. You can find either boxed pilot bread or canned.
Saltine Crackers
Perhaps the most popular long-lasting baked food, saltines are eaten in so many ways.
They are an easy snack, a great casserole topping (for your canned soup casserole!), and make great breadcrumbs. Cracker crumbs, rather.
Pretzels
Unopened bags of pretzels can last a very long time in your pantry.
Again, buying these snacks in individual packs will help keep them from spoiling, ensuring you have a long while before they expire.
Toaster Pastries
AKA Pop-Tarts. You don't need a toaster to enjoy these little breakfast treats. Toaster pastries are pie-like dough stuffed with a fruity filling.
Two pastries are wrapped at once, so the rest of the pastries do not go stale.
Whole Grains
While whole grains are not inherently a baked good, they can be used to make a variety of baked goods. Grains are excellent to keep in your food storage because they can last 30 years when stored properly! Over those years, you can make bread, cakes, pies, or anything else you can imagine.
There are lots of baked goods that have a long shelf life. Any baked good on this list would be a worthy addition to your food stock. Many include sweet treats and crunchy crackers, which is what we all crave in moderation.
Pick the items you like most from this list and add them to your pantry – if they're not there already!
You may also like: 
The Only Food That Grows Almost Faster Than You Can Eat It (Video)
10 Survival Crops You Can Grow Without Irrigation
How to Keep Moisture and Pests Away from Your Food Stockpile
25 Powerless Appliances for Your Homestead Kitchen
Source
24 Baked Goods That Last For A Long Time is written by Tracy Nawara for www.askaprepper.com