For your firearms to function as they should, they must be cleaned and maintained appropriately. This means that you have to take the time to regularly and thoroughly clean your firearms.
The problem is that sometimes cleaning kits can be expensive, and while it is nice to have a commercially available kit for cleaning firearms at home, you may not want to lug around such a kit through the woods or in a bug-out bag.
Fortunately, it is possible to build a functional kit with items you may have lying around the house and garage.
An Ounce of Prevention
Regular cleaning and oiling of your firearms will mean that when they get dirty out in the field, they will not be so soiled that they need a large-scale deep clean.
If you started the day with a clean weapon, all you need to do is give it a good once over with a rag and some oil, pulling a patch or two through the barrel to have a weapon that will continue functioning properly.
Related: The Complete Guide To Cleaning And Lubricating Your Ar-15
Pouch
You'll need something to hold all of your cleaning supplies in, and choosing a pouch is the first step in building your kit.
Whatever you decide to choose needs to be large enough to fit all the items but small enough that you will not find it cumbersome to carry around in your kit.
Selecting a MOLLE pouch will give you the added advantage of attaching it to a plate carrier or battle belt.
Gun Oil
Oil designed for use on firearms is the best choice for your kit, but there are alternatives that you could consider when improvising a gun cleaning kit.
Most oils and lubricants used on machinery will also be effective for use on your firearms.
Products like 3 in 1 oil or even 5w30 motor oils are going to do the job of lubricating and protecting your guns. Avoid using any plant-based oils such as canola and olive oils.
Cotton Patches
Pulling a patch through the barrel and removing any carbon build-up is essential in gun cleaning.
While you can buy patches, it is also easy to make your own out of old t-shirts. When cutting up cotton t-shirts, make sure that the patch's dimensions are appropriate for the type and calibre of the firearm and that the material is not too thick.
Related: How Shooters Are Building Firearms with 80% Receiver Kits
Different shirts can be of different thicknesses. If you cut patches of the same size out of shirts of different thicknesses, you may find that one of them may fit significantly tighter than the other. This could lead to a patch getting jammed in the barrel.
Test out your patches at home before putting in any kit that you take to the field.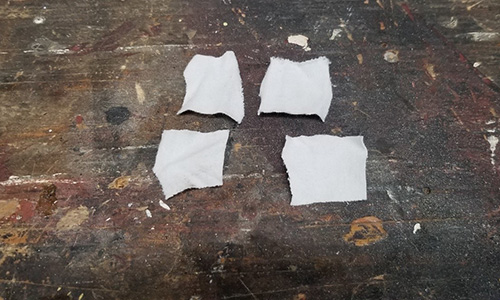 Rag
You can cut a rag out of an old shirt or use a soft microfibre cloth; it simply needs to be large enough to be used to wipe down the exterior of the gun of dirt and debris.
Lint-free rags are always best, but any cotton or microfibre fabric will suffice.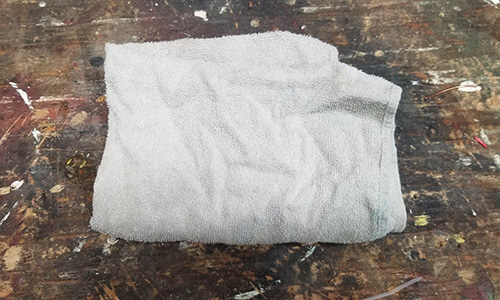 Toothbrush
While you could use an old toothbrush for scrubbing your firearms, they are not expensive, and it is probably best to go out and get the stiffest bristled toothbrush that you can buy.
If you want, you could also get a soft bristle brush and glue or tape them together to give yourself more options.
Dollar stores often have small travel-sized toothbrushes that will do the job quite nicely.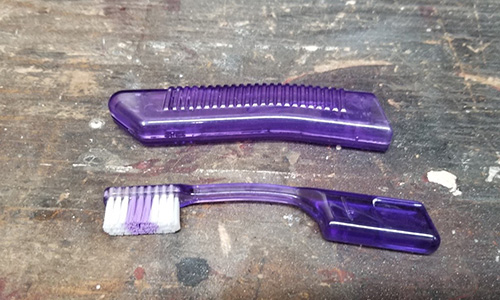 Paracord Bore Snake
Improvising a bore cleaning rod is not very practical, so instead, consider making a bore snake out of paracord or another cordage.
The type of cordage you use will be determined by the weapon you are building it for.
Related: Making Cordage From A Plastic Bottle
At one end of the cord needs to be a loop that you can slip a cotton patch through and drag it through the barrel. Again test this out at home before putting this into your kit.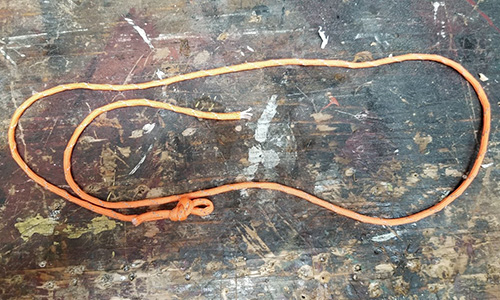 Q-Tips
When I was a young soldier, Q-Tips were practically worth their weight in gold when it came to cleaning our weapons. These can get down into all of the nooks and crannies of the weapon.
If you think you have put enough Q-Tips in your kit, add a few more because my experience always was that I often needed one more Q-Tip when digging carbon out of my C7 assault rifle's lower receiver.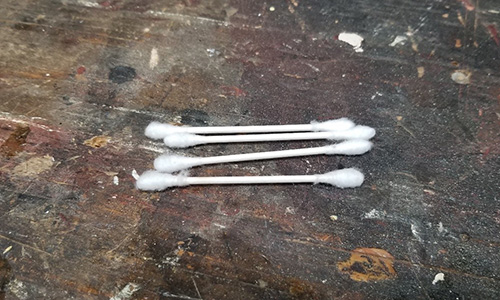 Lens Cloth
The chances are that if you have firearms, there are optics attached to them.
A lens cloth that you would commonly find included with cheap reading glasses is more than sufficient to wipe dirt and debris off the lens of your optics.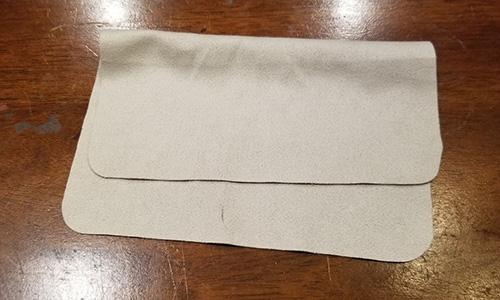 Flashlight
A simple AAA battery penlight is all you need to get a closer look at how clean your weapon is. This is also good for lighting up the gun's bore to get a really good look at the condition that it is in.
A flashlight is also useful for locating that extractor spring that slipped between your fingers.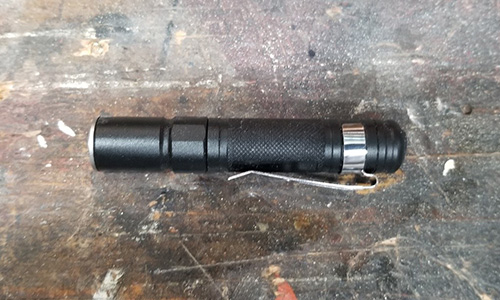 Spare Batteries
Modern weapons often have battery-operated accessories. From rangefinding optics to flashlights, if your firearms have battery-operated accessories, you need to include a spare battery for them.
Related: Rescuing And Restoring Almost Dead Lead-Acid Batteries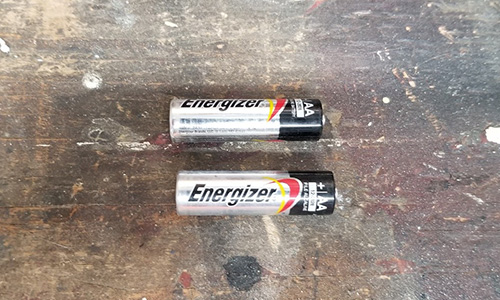 Multi-Tool
You probably already carry a multi-tool in your gear, but it is nice to have a spare one in your cleaning kit.
If you have an extra multi-tool lying around, consider throwing it into your gun cleaning kit as long as it has the appropriate tools to make adjustments to your firearms.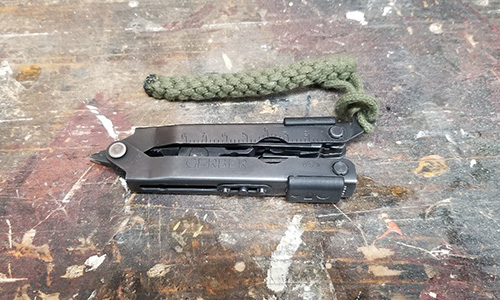 Nitrile Gloves
Wear gloves when cleaning your firearms. The ability to quickly clean your weapon and pull off your gloves to have clean hands will be a serious timesaver during a bug-out scenario.
Also, not having to wash your hands of layers of grime, carbon, and oil with your valuable water is very important in a survival situation.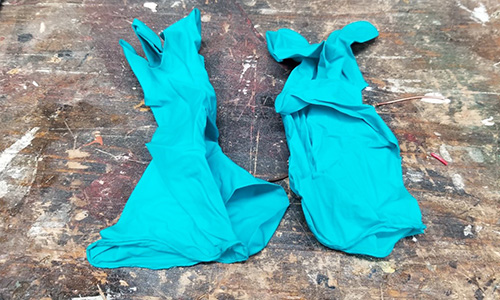 Concluding Thoughts
Many of you carry firearms for the sole purpose of protecting your life and the lives of others. Failing to care for and maintain these weapons properly can lead to them malfunctioning when they are needed most.
As I have detailed here, you can build a kit quite easily for not a lot of expense which is almost as effective as a commercially produced cleaning kit.
You can make a number of these cleaning kits and keep one in each of your emergency kits and bags so that there will always be the ability to keep your firearm in tip-top condition no matter the situation.
You may also like: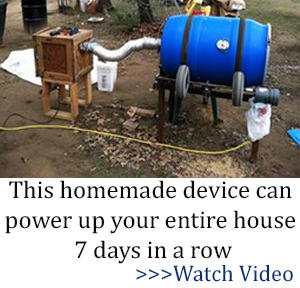 5 Best Guns to Have Against Looting Rioters
The Awesome DIY Device That Turns Air Into Fresh Water! (Video)
How To Reinforce a Shipping Container To Bury It (EMP proof)
I Lived In A Post-SHTF World For 3 Years, And This Is What I Learned
6 Ways to Sterilize Your N95 Mask for Endless Protection
Source
DIY Gun Cleaning Kit – Ask a Prepper is written by Michael Major for www.askaprepper.com