No matter how good a care you take of your guns, there's always a chance that they'll get a little bit of rust on them. You forget to clean your gun after a hunt, you get caught in the rain, or your body's sweat on your daily carry gun starts to cause a little bit of rusting.
Both the salt in our sweat and the acid in the oils that our bodies secrete are highly corrosive to steel; and while the coatings that gun manufacturers put on guns are intended to fight corrosion, they aren't perfect. Besides, they can wear off, leaving the metal totally unprotected.
In my own case, my former concealed carry gun was a pocket gun, carried in a padded cloth holster in my front pants pocket. Since I live in a hot climate, it was exposed to a lot of perspiration.
At the same time, I didn't want the gun to be oily on the outside, as that would stain my pants. My current concealed carry gun is in an outside waist holster, but is still exposed to a lot of perspiration, as well as wear.
The only good thing I can say about that is that the rust that forms in places where the finish has worn off also tends to wear off, leaving bare steel.
Before anyone bothers getting after me about not taking care of my guns, I freely admit that I don't clean and/or oil them as often as I should. I could give excuses, like being busy; but I won't bother. I know I'm not doing what I should and you know it; that's enough.
Related: What Kind Of Guns Are Best Stored To Leave As An Inheritance
Both of these pistols, like most guns that develop rust on them, only have surface rust, which one has to look carefully to see, as it looks more like pitting than anything else, as seen on the Ruger LCP slide below. But this is the case of most guns that any of us would be trying to remove rust from.
The only place obvious rust is likely to appear is in an inside corner, where nothing could wear against it, such as in the case of the front sight below.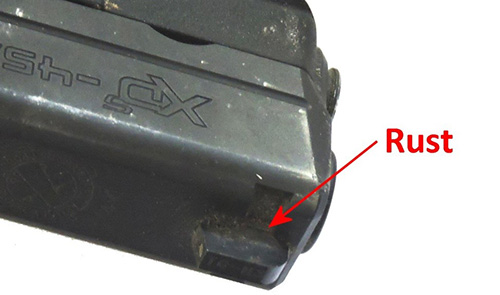 A really rusty gun, like what comes to mind when the term "rusty gun" is used, is probably only going to be encountered hiding in your grandparent's basement, where it was forgotten.
Care must be taken in removing rust and restoring these firearms, as improper rust removal, while effective, might destroy their value.
A Bit About Coatings
Guns today come with various different coatings on them, all intended to protect the gun from rusting. Some coatings are better at this than others, but can also have the effect of changing the gun or gun part's overall dimensions.
I remember a friend, a gun shop owner, who was building a custom 1911. Several of the parts had been gold plated and wouldn't fit back together. That's because plating a metal part adds material over what is already existing, changing the overall dimensions.
Some of the more common coating are:
Black Oxide (Bluing)
The traditional finish for firearms is bluing, more technically known as black oxide. This method protects from rusting, as well as reducing glare off of the metal.
It is achieved through an electromechanical reaction, transforming the surface of the metal to magnetite, an iron ore. The chemical formula for magnetite is Fe3O4, compared to rust, which is Fe2O3.
Black oxide finish won't chip off of a gun, although it can wear off. It doesn't change the physical dimensions of the part. Being about the lowest cost means of finishing a gun, black oxide is very common.
Hard Anodize (Hard Coat)
The hard anodizing process is another electrochemical process used for the finish of firearms. However, it is pretty much only used on aluminum, as hard anodizing causes most types of steel to rust, rather than to be converted to a hard coating.
Anodizing does affect the physical dimensions of the part, so that must be taken into account when the parts are made. The AR-15 receiver is the most common gun part to be anodized.
Manganese Phosphate (Parkerize)
Steel can also be phosphate coated, producing what is commonly known as Parkerizing. The original M-16, first issued during the Vietnam War was Parkerized.
This produces a superior coating, which is much more durable than bluing. To Parkerize metal, it is submersed in a phosphoric acid solution. This creates a porous black coating, which is quite durable.
One of the benefits of Parkerizing is that it creates a porous surface that absorbs oil. This makes the parts self-oiling to some extent, as the oil will leach out of the parts as the surface becomes dry.
Chrome Plating
Chrome plating is not as commonly used on firearms as the abovementioned black coatings; however it is used, especially for decorative handguns. But chrome plated pistols have also been working guns for law enforcement officers. Properly applied, chrome is totally rust resistant and since chromium is a very hard metal, it is also highly resistant to wear.
As with any other plating process, the gun's parts have to be manufactured with the understanding that they will be plated, as the plating process can add from 0.0008 to 0.005 inches in each dimension. That may not sound like much, but just like my buddy's gold plating, it can make it impossible to assemble the gun.
Related: How to Assemble a Flawless Snare for Survival in Just 5 Minutes
Stainless Steel
One way that manufacturers have found to avoid coating guns altogether is to sue stainless steel. This amalgam of steel contains chromium, the same metal used in chrome plating.
That makes it impervious to rusting, as well as making the steel much harder. Most commonly used for rifle barrels, literally any part of a handgun can be made out of stainless steel as well, except for pins and springs.
Cerakote
Cerakote is a ceramic based finish that can be applied to many different substrates, including the metal used in manufacturing guns. A relatively new coating, it is most often something that is an after-market addition.
Due to its durability, a gun coated with Cerakote is unlikely to rust. If it does, it probably means that the Cerakote has been damaged and needs to be replaced.
Cleaning the Rust Off
The guns we're going to be concerned about are ones which have probably been blued, rather than any of the other finishes I've listed here.
It is possible that guns which have been Parkerized may develop rust, if there is considerable wear of the finish. If that's the case, the same steps we are going to talk about will also work for those guns.
Whatever You Do, Don't…
There are a number of products on the market, which are designed for rust removal, perhaps the most famous of them being Naval Jelly, which has been around for years.
While there are differences between the various products, they are all acid-based in some way or another. As such, they eat away at metal; but they will eat away at rust, which is oxidized steel, faster than good steel.
This might sound ideal, but while these products eat away at the rust on the gun, they also eat away at the coating that has been applied to the gun, especially black oxide, which is chemically very similar to that of rust. Even Parkerizing can be damaged by those chemicals, as sit is also an oxidation of steel.
Do This Instead
Rather than using those products to remove rust, it is much better to use a little elbow grease; specifically, elbow grease attached to 0000 steel wool (pronounced "four ott" steel wool).
Some oil is needed as well, to act as a lubricant. This can either be a gun cleaning solution with oil in it, gun oil or just plain old motor oil.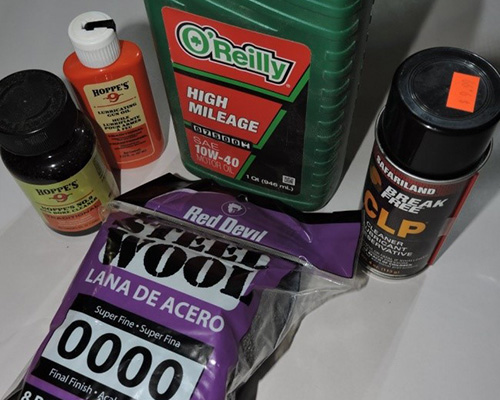 The reason 0000 steel wool is used, is that it is the finest and softest steel wool available, making it much less likely to damage the finish on the gun. This type of steel wool is normally used in doing fine finishes, to do the sanding between the next to last coat and the last coat or to rub out a defect in automotive paint, before applying a buffer.
It's about the finest abrasive you can buy, short of a buffing compound. While the places where the rust exists won't have that finish once we've removed the rust, at least the rest of the finish will remain intact, helping to protect the gun from further rusting.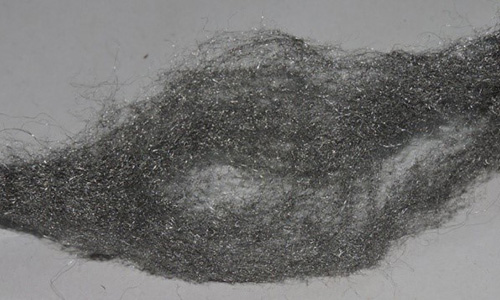 The oil can either be applied directly to the surface where the rust needs to be cleaned or to the steel wool.
The advantage of applying it to the steel wool is that you will have better control over where it is applied and how much is applied. In this case, there is a sticker on the other side of this gun slide, indicating that there is a laser sight installed.
Related: Brass vs Steel Ammo. Which Is Better For Preppers?
So, I'm trying to avoid getting the cleaner on that sticker and possibly damaging it.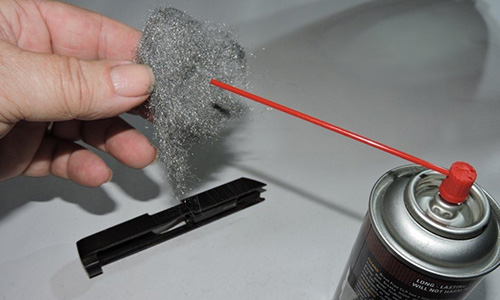 In most cases, it is easier to work in the long direction of the part being worked on; but that isn't true in all cases.
On this slide, the front end, where the worst pitting is, is smooth, so it makes sense to work rubbing the steel wool back and forth along the long direction of the slide.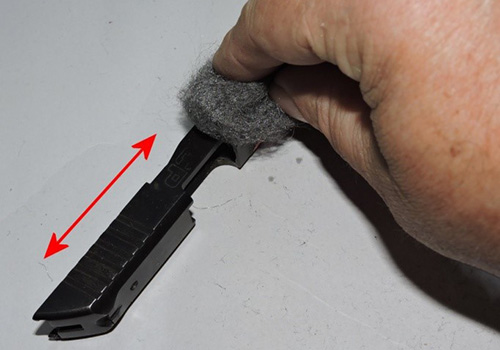 But there is also some rust on the back of the slide where the grips for racking the slide are located.
It is more or less impossible to remove the rust by working across those grips, it is necessary to work across the slide, in the direction that the ridges of the grips are going.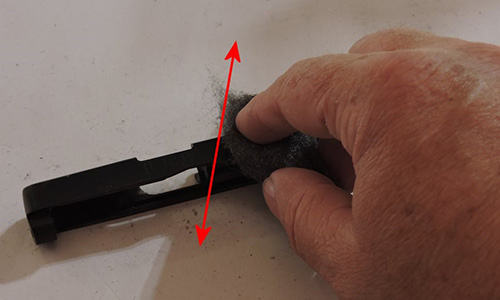 There may be some cases, in which it is necessary to work in multiple directions, such as where there is checkering. The point is to make sure that the rust is removed from all surfaces.
This doesn't require a lot of pressure, as the rust is much softer than the steel and breaks up easily. Nor does it take very long. I was able to remove the rust from this slide in a matter of only a few minutes.

The left-hand picture is the same one as above, showing the rust and pitting on the slide. The right-hand picture is after working on it to remove the rust. It looks darker, because of the oil on the slide; but there is no pitting. Nor can I see any pitting when looking at it with a magnifying glass.
It may be possible, in some cases where the rust is worse than it was on this handgun, that there will be obvious bare patches, where there is no finish, after the rust has been removed.
That can be protected by keeping the gun well-oiled. If the gun is to be stored for some time, then it would be a good idea to put an oil-soaked rag around it and then cover it with plastic, much like the military used to have firearms manufacturers cover guns with cosmoline and tar paper to protect them from rusting.
Another thing to consider, if there are patches where the finish is gone, is to have the part refinished. There are a number of shops that offer this sort of service.
Just be sure to check them out thoroughly before selecting one. You want to be sure that you can count on them to return your gun's parts.
You may also like: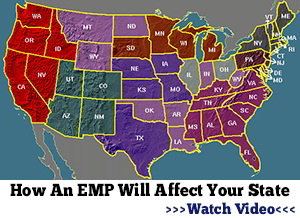 The Collapse of Journalism and the End of Free Speech in America
10 Deadly Mistakes That New Gun Owners Make (Video)
The SHTF Diet: Minimum Food And Water Supply For 3 Months
How to Make a Concealment Shelf
Source
How To Easily Remove Rust From Your Guns is written by Rich M. for www.askaprepper.com