One of the biggest concerns when SHTF is the lack of access to medical care.
The prospect of being your own doctor might be daunting, but knowing you have all the supplies you need is a good starting point.
That means knowing what to stock, and how to store it to keep it in good condition for the long-haul.
What Medicines and Medical Supplies to Stockpile?
There are a number of over-the-counter (OTC) drugs that earn a place in your emergency medical stocks. These include:
• Antacid: Calcium Carbonate. This medication is used to neutralize stomach acid. It can be used for heartburn, upset stomach, or indigestion.
• Antibiotic cream or ointment. These are used to treat minor wounds or skin infections.
• Anti-diarrhea: Loperamide. This drug helps to control diarrhea and prevent dehydration. It can be used for acute, short-term diarrhea or irritable bowel syndrome (IBS).
• Antiemetic: Meclizine: This OTC drug is effective against nausea and vomiting. It's usually used for motion sickness and vertigo-like dizziness.
• Antihistamine: Diphenhydramine. This OTC drug is commonly used to treat the symptoms of hay fever and allergies. This includes red, irritated, itchy, and watery eyes, as well as allergy-related sneezing and runny nose.
• Anti-inflammatory: Naproxen. This drug is used to relieve inflammation and joint and muscle pain. It's similar to Ibuprofen but has a longer effect, up to 12 hours.
• Decongestant: Pseudoephedrine. This OTC drug is used for nasal congestion caused by colds, hay fever, allergies, and bronchitis.
• Laxative: Polyethylene Glycol 3350 and Glycerin Suppositories. These drugs are used for loosening stools and treating constipation. Glycerin suppositories are rectal laxatives that can be used if polyethylene does not work to relieve mild to moderate constipation.
• Petroleum jelly, aloe vera gel, and hydrocortisone cream, and other antifungal creams. Used externally to provide relief for skin conditions and allergies.
• Pain Relief: Ibuprofen or Aspirin and Acetaminophen. These medicines are good for headaches, toothaches, muscle strains, back pain, and arthritis pain. Ibuprofen combined with Acetaminophen can be used to address severe pain.
As well as OTC drugs, there are some important medical supplies that you need to stock:
• Rubbing alcohol, hand wipes.
• Bandages, gauze pads in different sizes.
It's worth investing in a good first aid kit that includes a CPR mask, a thermometer, a variety of bandages, and items that will help manage more complex traumas.
There are various kits available that have different contents, and are more or less portable. Some contain medication and some do not.
Your first aid kit will also need to be stored safety and checked regularly to ensure items are not out-of-date.
How to Store Medications Safely
When storing medicines, it's important to note that air, heat, direct sunlight, and moisture may damage them. You should keep your drugs in a cool, dry place, protected from direct light.
Some medications, including insulin and some eye drops, require refrigeration. Make sure to place your medicines away from the cooling wall of your fridge, as temperatures that are too cold will also affect the medicine's efficacy.
The best place to store your medication is in the fridge door. Place the medicines in a sealed container to avoid potential contamination from the food you have in the fridge.
Related: The Only Meds That You Need To Stockpile for SHTF
Generally: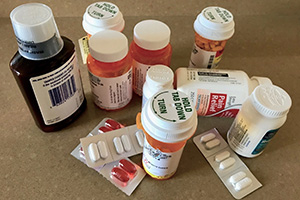 • It is better to keep the medicine in its original container.
• A pack of silica gel inside a medicine bottle acts as a desiccant to keep humidity under control and ensure the medicine is not affected by molds and mildew.
• Do not put a cotton ball in the medicine bottle as it draws moisture into the container.
• If unsure, ask your pharmacist for specific instructions on how to store the drugs.
Where to Store OTC Medicines?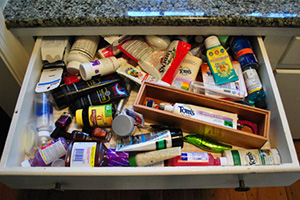 • Keep your medication in a cool and dry place.
• You may put them in your dresser cabinet or kitchen cabinet – but make sure they are far from the stove, sink, or any other hot appliances that might affect the medicine.
• Most people store their medicines in the bathroom – which is not advisable. The humidity inside the bathroom is high which can lessen the potency of the drugs, or they may deteriorate before expiry dates.
• Keep your medicines and medical supplies out of reach and out of sight of children or pets. If possible, store them in a cabinet with a child-proof latch or lock.
How to Organize Drugs and Medical Supplies?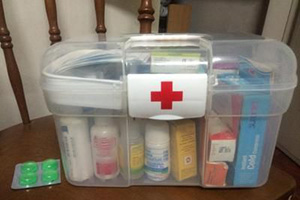 • You can store your medication in a special box that is well sealed. Make sure you use one that is big enough to accommodate all your drug containers and bottles.
• You can also use a small to large organizer drawer (depending on the quantity of medication you have) to keep your medicines and supplies organized. They can be easily purchased at shopping malls and big-box stores.
• For example, you may put the OTC drugs on the first top two drawers and then the bandages, gauze pads, and other supplies at the bottom.
• Adding labels to identify what to use for different conditions is also a good idea so you and your family can easily find the right products and return them to the right section.
• Make sure to label the medicines clearly.
Related: Prepping to Power Medical Equipment When SHTF
Disposing of Old Medicines
It's important to ensure that the medicines you are using or will use are still safe to take. Expired, unwanted, or unused medicines should be disposed of.
• It's not advisable to flush the medicine down the toilet as it is not good for the water supply.
• If you wish to throw medicines in the trash, mix them first with something that will ruin their form or appearance. For example, mix them with coffee grounds or kitty litter, and then put the mixture in sealed plastic.
• Medicines might be good for you but might not be safe for someone else. So the best way to dispose of expired and unused medicines is through the drug take-back programs. Many communities offer that – check with your law enforcement officials for the nearest location.
• Alternatively, you can ask your pharmacist. They might have on-site drop-off boxes and mail-back programs.
The proper storage of OTC drugs and medical supplies is imperative in ensuring your medicine's safety. By doing so, you can be assured that they are safe to take and are efficacious when you need them.
Finally, make sure you have a good first aid manual that will give directions on the use of medication and emergency health procedures. Store this near to your first aid kit or medicine location.
You may also like: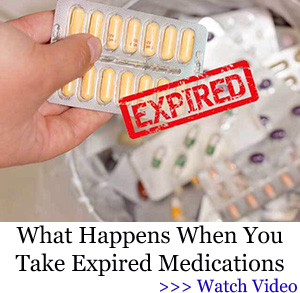 7 Items To Stockpile To Keep Your Car Running After An EMP
"Nature's Prozac" Or The Instant Anxiety Relief Plant That Could Be Growing Near Your House (Video)
How To Grow A Food Garden Completely Hidden In Plain Sight
Shocking Riot Videos and Pics: Watch Protesters Destroy Armored Vehicle With Molotov Cocktails
Source
How To Properly Store Over-The-Counter Drugs And Medical Supplies is written by Kathryn Dench for www.askaprepper.com