If you keep your own flock of chickens, you already know how beneficial these little workers can be. They provide eggs, gardening help, pest control, and eventually a rich chicken stock or Sunday dinner.
But these birds have more to offer in the way of resources than most people realize. One of the overlooked and invaluable byproducts hens produce is their eggshells.
Surprising Uses for Eggshells
Usually, eggshells get discarded immediately after they're used. But why throw them out when you can use them to make life easier on the homestead or garden?
Eggshells are one of nature's most calcium-rich foods and contain high phosphorus and magnesium levels.
They also have traces of sodium, potassium, zinc, manganese, iron, and copper — all of which are essential elements you want in your body and in your garden.
Related: 8 Cheap Protein Sources to Add to Your Stockpile Right Now
Are Eggshells Safe to Use?
The single-most thing that seems to hold people back from using eggshells these days is the risk of salmonella. Even though the risk of becoming ill from eating eggs is extremely rare, it's still understandable why some people are hesitant.
This is especially true for people who don't have hens of their own and depend on store-bought eggs.
When folks buy store-bought eggs, they don't know for certain what conditions the hens are living in.
Usually, the hens that are used for mass egg production are known to produce eggs that are significantly lower in nutrients.
However, with proper cleaning and storage techniques like buying eggs from a neighbor, raising hens yourself, or buying from a reputable source, you can eliminate the risk of this rare sickness altogether.
How to Prepare and Store Eggshells
Unless you have eggs that are covered in dirt, feathers, or droppings—thoroughly cleaning them isn't really necessary.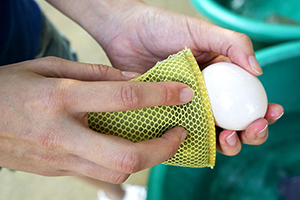 If you need to wash your eggs, a quick rinse in warm water or a wipe down with a damp washcloth will do.
When you use eggs, instead of tossing the shell in the trash — lightly crush them and toss them into a jar.
When your jar is full, it's time to prepare your shells.
To Prepare Your Eggshells, You Will Need:
An oven or solar oven that can reach temperatures of 200 degrees Fahrenheit.
A mortar and pestle, rolling pin, or whatever tool you have on hand to crush the shells.
A mason jar or another strong storage container to keep your shells for future use.
Instructions:
1. Preheat oven to 200 degrees Fahrenheit.
2. Spread lightly crushed eggshells on a flat cooking surface like a baking sheet and bake for 10-15 minutes or until shells become very brittle. This will kill any bacteria that might linger on the shells.
3. Remove from oven and wait until shells have cooled.
4. Crush shells as finely as you'd like for your desired purpose, and store them in jars or storage containers until you're ready to use them.
That's all there is to it!
Unique Ways to Prepare and Use Eggshells
Calcium Supplement for Your Dog
On the homestead or SHTF situation, there are many reasons to keep dogs.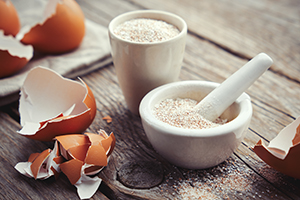 Whether your pup is a watchdog, companion, or hunter—it's important to keep them in good health.
Finely ground eggshells added to dog chow are a perfect way to strengthen bones and teeth to keep your dog fit and healthy.
DIY calcium supplements for your dogs can save you a lot of money in the long run and will ensure your dog stays in great health.
Related: How To Make Calcium Supplements from Eggshells
Repel Pests from Your Garden
Nothing is worse than having your crop destroyed by pests.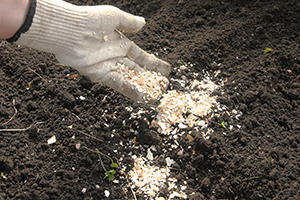 Sprinkling crushed shells around your garden beds or rows will keep the critters at bay. This is effective for cutworms, snails, slugs, and even works to repel cats and deer!
To repel pests from your garden with eggshells, lightly crush and sprinkle them around your garden beds or rows.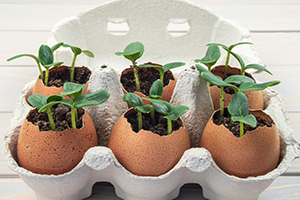 When you start your seeds in eggshells, you're giving your seedlings an extra dose of calcium early in their lifecycle.
This can help these vulnerable little plants to develop resistance against common pests and diseases as they grow.
Best of all, the eggshells are biodegradable and will help to enrich the surrounding soil as they break down.
To make an eggshell seed starter, simply break an egg in half and use the shells as seed starters or seedling planters the way you would with peat pots or starter containers.
Calcium Boosting Chicken Feed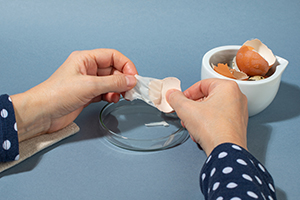 Did you know hens are known to eat their own eggs and shells in the wild?
Hens love it, but roosters are known to reject the opportunity to feast on the crushed shells.
Serving the shells back to the hens adds a powerful boost of calcium to their diet and results in stronger, healthier eggs.
This is a completely free source of nutrients for your hens and is just as healthy, if not more so, than store-bought calcium powder or oyster shells.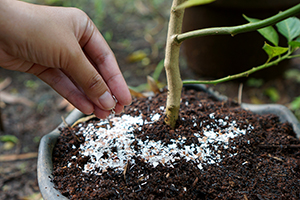 Instead of using harsh chemicals in your garden, you can feed your indoor and outdoor plants eggshells.
Using shells as a soil amendment and fertilizer reduces the chance of root and blossom rot and improves your soil. This method is especially effective with tomato and pepper plants.
Related: Bury An Egg In Your Garden Soil, What Happens Few Days Later Will Surprise You
Getting adequate calcium is essential when living off-grid. When milk or other calcium-rich foods are not available, you need to have a plan B to make sure you get all the nutrients you need to survive.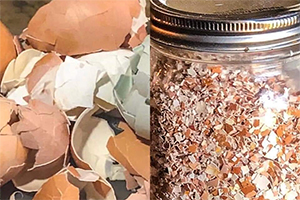 Without adequate calcium intake, your body will actually start to draw from the supply it needs from the minerals in your bones and teeth!
You can mix up a DIY "calcium shot" from finely ground eggshells added to water. Add honey for extra flavor and a vitamin C boost.
Calcium powder not only works as an emergency calcium supplement, but it also helps to settle stomach pains and diarrhea in humans as well as animals and livestock.
Adding shells to your compost pile not only adds calcium to your final product, but also adds potassium, phosphorus, and magnesium too!
When your compost is ready to use, your NPK levels will be balanced and your plants will likely become more pest-resistant due to the high calcium levels present in the soil mix.
Waste Not, Want Not
The many uses of eggshells lend truth to the old expression, "one man's trash is another man's treasure."
So, the next time you make your morning omelet or fry up some bacon and eggs, don't forget to save those shells!
You may also like: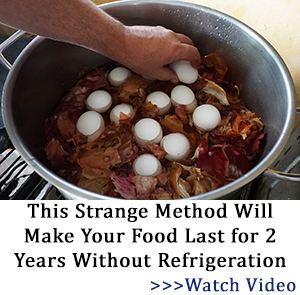 17 Forgotten Preservation Hacks that Will Save You Money
Why You Should Put Egg Whites On Second-Degree Burns (Video)
Frugal Prepping: How to Get Cheap and Reliable Ammo For SHTF
6 Easy Ways To Remove Mold Naturally
How To Make Tea Tree Oil To Treat Infections
Source
What You Should Do With Your Eggshells is written by Christine C. for www.askaprepper.com